Veterinary Technician – Sign On Bonus
Kirkland, WA
Category:

Technicians




Posted Date: March 24, 2020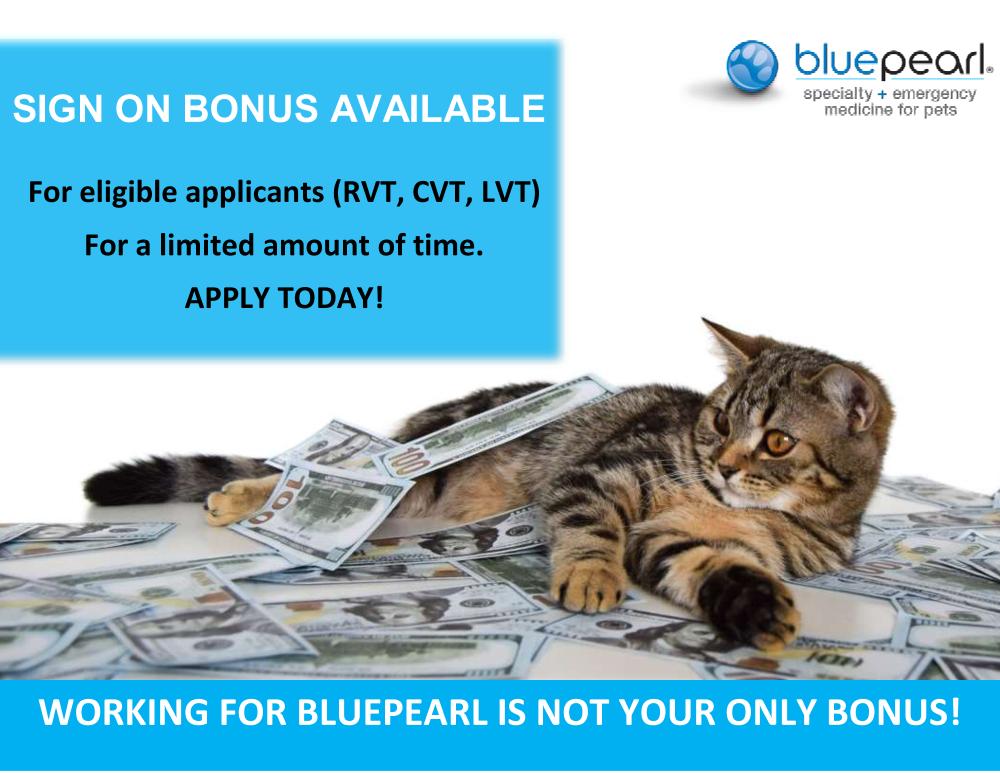 **This position is eligible for a sign on bonus! Apply today! **
Seattle Veterinary Specialists is looking for a Licensed Veterinary Technician to join our team in Kirkland WA. This is a full-time position working Wednesday – Saturday (overnight shifts). We offer a competitive night and weekend shift differential and are currently offering a sign on bonus for LVT applicants!
We are a 24-hour emergency and specialty facility and our in-house specialties include Cardiology, Critical Care, Internal Medicine, Neurology, Oncology, Radiology, Rehabilitation, and Surgery. We have an Antech lab on site, and in-house Idexx lab equipment. Our location offers CT imaging, MRI, digital radiography, ultrasonography, fluoroscopy and endoscopy, an underwater treadmill / hydrotherapy, acupuncture, cold laser therapy, and Extracorporeal Shockwave therapy. Our ICU is fully equipped for high level patient care, including: multi-cage Synder, telemetry, expansive video monitored isolation, video monitored seizure ward, long term mechanical ventilation suite, and ability to provide blood component therapy.
While BluePearl in general encourages learning, in Kirkland specifically we emphasize growth and education in a teaching hospital setting. Having rotating interns each year, as well as specialty interns and/or residents in most of our specialties means we have regular rounds and learning opportunities in house for Technicians and Assistants as well. We have a positive learning environment and our team has a driving desire to continuously get better, learn more, and perform skills at the highest possible level. We have the capacity to see and treat cases of all kinds and have heavy involvement in anesthetic protocols and patient care. We have a talented team and we are geared towards education and growth. We have several VTS technicians (ECC) and (Anesthesia / Analgesia) who encourage learning and offer VTS training groups, a training and leveling program, and information to keep us all up to date on the latest and greatest in CPR.
Here are some of the reasons why we love being a part of the SVS Kirkland family!
"I like that I get to practice the gold standard of medicine while working on really unique and challenging cases. I get so many opportunities to provide my team with new and exciting learning opportunities!" – Angela, LVT
"I can come to work every day and depend on the people who I'm working with. Everyone has a smile on their face even if it is super busy. We will work together to get the job done." – Paige McCue, CSR
"I enjoy working for the surgery team because it's a good learning atmosphere with positive team members. Our opinions are respected by the doctors that we work with." – Kylee, LVT
"This team really knows how to have a good time at work! Some days are long, and some cases are hard, but even on those days I find there is someone there to make me laugh and lift my spirits." – Flo, LVT (Technician Manager)
"I love working at SVS Kirkland because it is a true team environment. We are all one family. Local management supports our team and encourages learning and growth so that we can continually provide exceptional patient care." – Kristen Goodman, LVT VTS ECC (Technician Trainer)
We are seeking a Veterinary Technician who is dependable, positive, and resilient, has good communication, and enjoys working in a team environment. The right fit for our team is someone who has goals and career aspirations, is coachable, and likes to learn!
Our team values:
Excellence – Striving to be the best versions of ourselves and practice the best veterinary medicine.
Teamwork – Always build up people around you and contribute to a positive atmosphere.
Compassion – Kindness and empathy for our patients, our clients, our team, and ourselves.
Client Promise – Provide peace of mind, beyond expectations.
We have a compensation & benefits package to include the following based on eligibility:
Competitive Pay
Career Advancement Opportunities – skills & knowledge based
Shift Differential for all hourly para associates
Weekend Shift Differential for all hourly para associates
Paid Time Off and Floating Holidays
Health Care Benefits – medical, dental & vision
Life & AD&D
Disability – Short term & Long term
Health Savings Account
Flexible Savings Account
401K Retirement Plan
Continuing Education Plan – to include individual stipends and rollover benefits/CE hours for CVT/VTS
Penn Foster tuition assistance
VTNE reimbursements
Additional VTS benefits – pursuing & established VTS technicians
Licensure Reimbursements
Pet Insurance Options and Pet Care Discounts
Scrub Allowance
Referral Bonus Program
Career advancement opportunities outside of our local hospital
And more!
If you have been looking for a way to advance your career, apply today!
BluePearl is committed to a diverse work environment in which all individuals are treated with respect and dignity. We are an equal opportunity employer and all qualified applicants will receive consideration for employment without regard to race, color, national origin, religion, creed, sex, age, disability, genetic information, marital status, citizenship status, sexual or affectional preference, or gender identity or expression, protected veteran status, or any other characteristic protected by law. If you need assistance or an accommodation during the application process because of a disability, it is available upon request. The company is pleased to provide such assistance, and no applicant will be penalized as a result of such a request. We are an Equal Opportunity Employer and a Drug-Free Workplace.